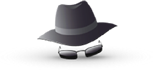 Privacy
Any tracking cookies on this site?
Privacy
This website uses only one cookie – Basic Google Analytics – and you can block this in your browser if desired.
No other cookie or tracking/identifying system is used.
Security
This is a flash-free website – only HTML code is used.
The same quality assurance cannot, however, be extended to any external website links. They have been evaluated as safe, but this website has no control over future changes that may occur.