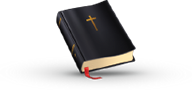 Read & listen to the Bible
Psalm 134
Come, Bless the
Lord
A Song of Ascents.
134:1 Come, bless the Lord, all you servants of the Lord,
who stand by night in the house of the Lord!
2 Lift up your hands to the holy place
and bless the Lord!
3 May the Lord bless you from Zion,
he who made heaven and earth! (
Scripture taken from The Holy Bible, English Standard Version. Copyright ©2001 by
Crossway Bibles
, a publishing ministry of Good News Publishers. Used by permission. All rights reserved. Text provided by the
Crossway Bibles Web Service
.